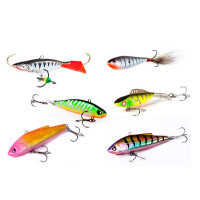 🐟 Winter bait
Our company is a well-known leader in fishing supplies industry because we deliver best fishing tackles since 1975 and we know how to do our business well. We care about our customers and you'll feel you're in the right place the first second after you enter the door of our store. Our experienced and highly professional staff will help you find exactly what you need and will give you tons of useful suggestions. Don't forget that we have various promos as well, so you can get a good discounted price.
Reference: IJIFS02501
Brand: Shark
I-Jig seems to be one of the many vertical jigging lures at slight view, but as soon as you tryit, you'll change your mind. I-Jig is an extremely durable lure due to its innovativetechnology and the ultimate materials used for its manufacturing. The rear tail is not aseparate detail but it's solidly integrated into the body. The whole homogeneous...